Lesson Rates:
Charles le Sueur, Head Professional, PGA Advanced Professional
 

|   | Member | Non Member |
| --- | --- | --- |
| 30 Minute Lesson | £22.50 | £25 |
| 1 Hour Lesson | £40 | £45 |
| 1 Hour Playing Lesson | £35 | £40 |
| Jnr 30 Min Lesson | £15 | £15 |
| Junior 1 Hr Lesson | £25 | £25 |
For more information about the Cheshire Golf Studio, click here
Click here to get in touch to request your lesson.
TruGolf E6 Golf Simulator
Come and enjoy some of the world's best golf courses at The Cheshire Indoor Golf Centre, the exciting new indoor golf venue at Alderley Edge Golf Club, Cheshire. With many of the world's greatest courses and the latest simulator technology why not come and relax and play your favourite course with friends, family or colleagues.
When you visit The Cheshire Indoor Golf Centre you will also find a well stocked golf shop with the emphasis on custom fitted golf equipment and our professional coaches on hand for free fitting advice and expertise. With competitive prices and the best custom fitting service around come down to The Cheshire Indoor Golf Centre to have fun and improve your golf!
The Trugolf E6 golf simulator delivers the ultimate indoor golf experience, far more than simply playing golf. The system has been designed to provide an incredibly realistic indoor golf environment for both playing and practicing. The Flightscope 3D dopplar radar captures both the club and ball flight in 3D format to provide unrivalled ball flight accuracy and feedback. Over 80 of the world's famous courses are available, from Ryder Cup Venues such as The Belfry and Gleneagles to major championship courses such as St Andrews and Pebble Beach . Our aim is to help you enjoy and improve your golf in warm environment for 365 days a year!
Lesson Prices:
Members:
- 9.00am - 5.00pm Monday to Friday
30 Minutes Golf Simulator Hire -

£5

1 Hour Golf Simulator Hire -

£8
- After 5pm and Weekends
30 Minutes Golf Simulator Hire -

£8

1 Hour Golf Simulator Hire -

£12
Non Members:
- 9.00am - 5.00pm Monday to Friday
30 Minutes Golf Simulator Hire -

£9

1 Hour Golf Simulator Hire -

£15

2 Hour Golf Simulator Hire -

£25
To book the golf simulator, please call Charles or Eddie in the shop on 01625 586200 (Option 2)
Flightscope
"Golf is what the ball does, which is totally dependent upon what the club is doing at impact"
(John Jacobs, 2001)
Cheshire Golf Studio uses Flightscope, the world's first 3D ball flight measuring device. This piece of equipment has to be seen to be believed. It has the following benefits: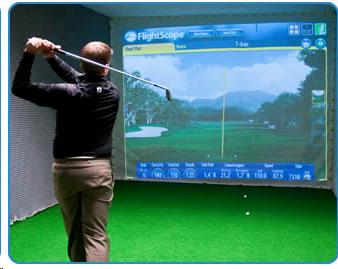 1. Measures the full trajectory of any shot from a short pitch to the longest of drives
2. Displays the actual 3D trajectory in real time
3. Shot trajectory projected onto a big screen to enhance the learning experience - it feels like you are actually on the course! (see picture above)
4. Used by the leading instructors and club fitters on the PGA tour

It also measures the following data that is vital when working on your golf swing:
Clubface angle at impact
Swing path
Angle of approach
Clubhead speed
Horizontal and Vertical swing plane angle
Launch angle
Launch spin
Carry distance
Total Distance
All of this is included in the price of every golf lesson given at the studio
Click here to request your lesson.